A comprehensive and easy to use application that you can use to listen to your favorite songs and annotate beats in audio files
BEAT STATION is an intuitive application that annotates beats or segments in audio files and allows you to listen to a set of songs.
Prior to starting BEAT STATION, you have to place the desired songs (common audio formats are supported) within the 'data/sounds/' directory. The application enables you to play the songs one by one.
http://ncu.dl.sourceforge.net/project/beatstation/0.9.0/beatStation_WIN_0.9.0.zip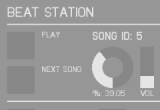 _________________